Gujarati is a language native to the state of Gujarat in western India . It is an Indo-European language, of the Indo-Aryan family, spoken by about 46 million people worldwide, making it the 23rd most spoken language in the world. Of these, roughly 45.5 million reside in India , 150,000 in Uganda , 250,000 in Tanzania , 50,000 in Kenya and roughly 100,000 in Pakistan . Gujarati is the chief language of India's Gujarat state, as well as the adjacent union territories of Daman and Diu and Dadra and Nagar Haveli. A considerable population of Gujarati speakers exists in North America and the United Kingdom as well.
In the United Kingdom , Leicester ( Midlands ) and Wembley ( North London ) are two areas popular with Gujaratis. And in America , states such as New Jersey , New York , California , and Texas are quite popular with Gujaratis. Due to the sheer number of Gujarati population spread around the world, right from Africa , Middle-East to the UK and the United States , they are sometimes jokingly called Non-Resident Gujarati (NRG) rather than the official-term Non-Resident Indian (NRI). Gujarati is one of the 14 official regional languages of India . Gujarati was the mother-toungue of both Mohandas K. Gandhi, the "father of India " and Quaid-e Azam Mohammed Ali Jinnah, the "father of Pakistan ".

GUJARATI
43,312,000 in India (1994 IMA); 140,000 in United Kingdom (1979 Wagner and Dayton); 6,203 in Fiji; 9,600 in Zimbabwe (1973); 12,000 in Zambia (1985); 147,000 in Uganda (1986); 5,000 in Malawi (1993); 50,000 in Kenya (1995); 800 in Singapore (1985); 44,000,000 in all countries. Gujarat , Maharashtra , Rajasthan, Karnataka, Madhya Pradesh. Also in Bangladesh , South Africa , Pakistan , Reunion . State language of Gujarat.
---
Sample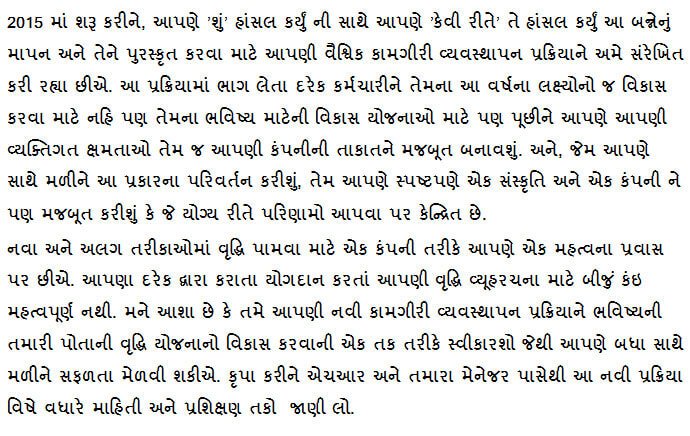 Translation
Starting in 2015, we are aligning our global performance management process to measure and reward both 'what' we achieve along with 'how' we achieve it. By asking every employee who participates in the process to develop not only their goals for the year, but also their development plans for the future, we will be strengthening our individual capabilities, as well as the strength of our company. And, as we make this shift together, we will be clearly reinforcing a culture and a company that is focused on delivering results in the right way.
We are on an important journey as a company to grow in new and different ways. There is nothing more important to our growth strategy than the contributions that we each make. I hope that you'll embrace our new performance management process as an opportunity to develop your own growth plan for the future so we can all succeed together. Please look for more information and training opportunities about this new process from HR and your manager.
---
Typesetting & Gujarati Desktop Publishing (DTP)
A very large portion of our business day-to-day consists of converting English language publications into all major languages. We can also Typeset & DTP your document in Gujarati language. We work in Indesign, Framemaker, Pagemaker, Coreldraw, Illustrator, Quark Xpress, Flash & others and produce the same document into print ready Gujarati language with a complimentary PDF file for you check the files.
Gujarati Website Localization
We have ample experience with website translation; we know exactly how to go about it, what to ask and what to change keeping in view that it will be localized multilingual website. We can translate your website to an attractive Gujarati website and retaining the meaning and flavor as per original website. We can easily work in HTML, XML, Wordpress, ASP, PHP, GIF, JPEG, Joomla, Drupal, PNG, CMS Websites, Flash,.NET & others so if you need your website in Gujarati just mail us: info@speakthylanguage.com
Spaeakthylanguage Native Gujarati Linguist Guarantee
Use Speakthylanguage native translators to ensure you're getting the best translation available, including correct dialects, special characters, and the nuanced meaning that comes with any of our language translation. We guarantee that you'll be satisfied with our translation. And because we provide complimentary PDF copies of your translations, it will make sure our work shows accents and special characters correctly. In this business, there is no substitute for a native Gujarati translator.
Contact info@speakthylanguage.com today for perfect Gujarati translation.