Hindi is a modern Indo-Aryan language spoken in South Asian countries (India, Pakistan, Nepal) and also in other countries outside Asia (Mauritius, Trinidad, Fiji, Surinam, Guyana, South Africa and other countries). Approximately six hundred million people speak Hindi, as either a first or second language. It is ranked among the five most widely spoken languages of the world. Along with English, it is the official language of India. In addition, it is the state language of Bihar, Haryana, Himachal Pradesh, Madhya Pradesh, Uttar Pradesh, and Rajasthan. Here is a list of those Indian languages spoken by more than a million people. English is spoken as a second language by more than ten million Indians.

HINDI
180,000,000 in India (1991 UBS); 346,513,000 or nearly 50% including second language users in India (1994 IMA); 346,000 in Bangladesh (1993); 26,253 in USA (1970 census); 685,170 in Mauritius; 890,292 in South Africa; 232,760 in Yemen; 147,000 in Uganda; 5,000 in Singapore; 2,900 in Nepal; 11,200 in New Zealand (1987); 24,500 in Germany (1984 Time); 182,000,000 in all countries or more. 418,000,000 including second language users (1995 WA). Throughout northern India. Also in Kenya, United Arab Emirates, United Kingdom. Hindi, Hindustani, Urdu could be considered co-dialects, but have important sociolinguistic differences. Hindi uses the Devanagari writing system, and formal vocabulary is borrowed from Sanskrit, de-Persianized, de-Arabicized. Literary Hindi, or Hindi-Urdu, has four varieties: Hindi (High Hindi, Nagari Hindi, Literary Hindi, Standard Hindi); Urdu; Dakhini; Rekhta. State language of Delhi, Uttar Pradesh, Rajasthan, Punjab, Madhya Pradesh, Bihar, Haryana, Himachal Pradesh. Languages and dialects in the Western Hindi group are Hindustani, Bangaru, Braj Bhasha, Kanauji, Bundeli.
---
Sample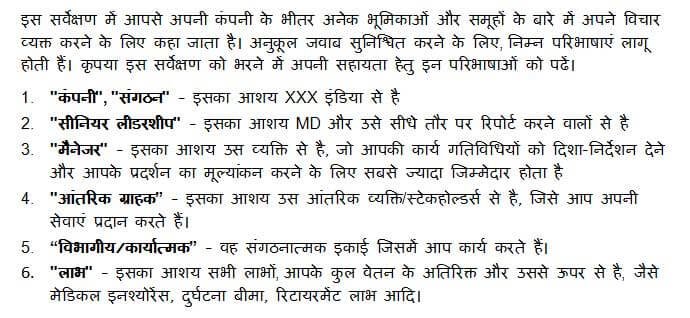 Translation
In this survey you are asked to express your opinion about a number of roles and groups within your organization. To ensure consistent responses, the following definitions apply. Please read these definitions to help you complete this survey.
"Company" , "Organization" - Refers to XXX India
"Senior Leadership" - Refers to the MD and his direct reports
"Manager" - Refers to the person most responsible for directing your work activities and evaluating your performance.
"Internal Customer" - Refers to any internal person/stakeholders to whom you provide services.
"Department/Functional" - The organizational unit you work in.
"Benefits" - Refers to all benefits, over and above your salary, like medical insurance, accident insurance, retirement benefits, etc.
---
Typesetting & Hindi Desktop Publishing (DTP)
A very large portion of our business day-to-day consists of converting English language publications into all major languages. We can also Typeset & DTP your document in Hindi language. We work in Indesign, Framemaker, Pagemaker, Coreldraw, Illustrator, Quark Xpress, Flash & others and produce the same document into print ready Hindi language with a complimentary PDF file for you check the files.
Hindi Website Localization
We have ample experience with website translation; we know exactly how to go about it, what to ask and what to change keeping in view that it will be localized multilingual website. We can translate your website to an attractive Hindi website and retaining the meaning and flavor as per original website. We can easily work in HTML, XML, Wordpress, ASP, PHP, GIF, JPEG, Joomla, Drupal, PNG, CMS Websites, Flash,.NET & others so if you need your website in Hindi just mail us: info@speakthylanguage.com
Spaeakthylanguage Native Hindi Linguist Guarantee
Use Speakthylanguage native translators to ensure you're getting the best translation available, including correct dialects, special characters, and the nuanced meaning that comes with any of our language translation. We guarantee that you'll be satisfied with our translation. And because we provide complimentary PDF copies of your translations, it will make sure our work shows accents and special characters correctly. In this business, there is no substitute for a native Hindi translator.
Contact info@speakthylanguage.com today for perfect Hindi translation.