The Malay language, also known locally as Bahasa Melayu, is an Austronesian language spoken by the Malay people who are native to the Malay peninsula, southern Thailand, Singapore, central eastern Sumatra, the Riau islands, and parts of the coast of Borneo. It is the official language of Malaysia, Brunei and Singapore. It is also used as a working language in East Timor. It is practically the same as or mutually intelligible with Bahasa Indonesia, the official language of Indonesia, but differentiated in name for political reasons.The official standard for Malay, as agreed upon by Indonesia, Malaysia and Brunei, is Bahasa Riau, the language of the Riau Archipelago, long considered the birthplace of the Malay language.
In Malaysia, it is known as Bahasa Melayu or Bahasa Malaysia, which means the Malay, or Malaysian, language. The latter term, which was introduced by the National Language Act 1967, was predominant until the 1990s, when most academics and government officials reverted to the older term, which is used in the Malay version of the Federal Constitution. Indonesia adopted a form of Malay as its official language upon independence, naming it Bahasa Indonesia. In Singapore and Brunei it is known simply as Malay or Bahasa Melayu.
The reason for adopting these terms is political rather than a reflection of linguistic distinctiveness, as standard Bahasa Malaysia and Bahasa Indonesia are mutually intelligible. However, many Malay dialects are not as mutually intelligible: e.g. Kelantanese pronunciation is difficult even for some Malaysians to understand, while Javanese Malay tends to have a lot of words unique to it which will be unfamiliar to other speakers of Malay. The language spoken by the Peranakan (Straits Chinese, a hybrid of Chinese settlers from the Ming Dynasty and local Malays) is a unique patois of Malay and the Chinese dialect of Hokkien, which is mostly spoken in the former Straits Settlements of Penang and Malacca. The use of this interesting language is dying out, however, with the Peranakan now choosing to speak either Hokkien or English.
---
Sample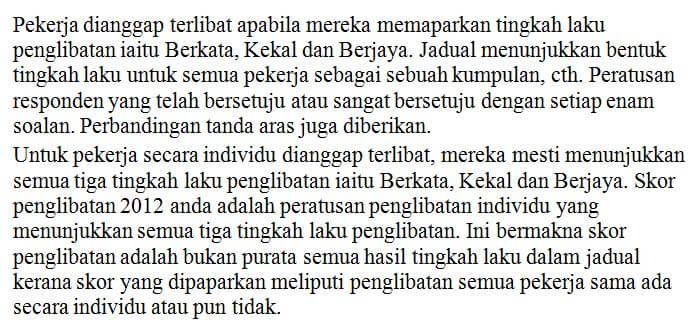 Translation
Employees are considered engaged when they display the engagement behaviors of Say, Stay and Strive. The table shows the patterns of these behaviors for all employees as a group, i.e. the percentage of respondents who agreed or strongly agreed to each of the six questions. Benchmark comparisons are also provided.
For an individual employee to be considered engaged, they must show all three of the engagement behaviors of Say, Stay and Strive. Your 2012 engagement score is the percentage of individual employees showing all three engagement behaviors. This means that the engagement score is not the average of all the behavior results in the table because the scores shown include all employees whether or not as individuals they are engaged.
---
ABOUT Malay Translation
Malay is normally written using the Roman alphabet, although a modified Arabic script called Jawi also exists. It is an agglutinative language, meaning that the meaning of the word can be changed by adding the necessary prefixes or suffixes. Root words are either nouns or verbs, e.g. masak (to cook) yields memasak (cooks, is cooking, etc.), memasakkan (cooks, is cooking, etc. [something]), dimasak (cooked - passive) as well as pemasak (cook - person), masakan (cooking, cookery). Many initial consonants undergo mutation when prefixes are added: e.g. sapu (sweep) becomes penyapu (broom); panggil (to call) becomes memanggil (calls, is calling, etc.), tapis (sieve) becomes menapis (sieves, is sieving, etc.)
Typesetting & Malay Desktop Publishing (DTP)
A very large portion of our business day-to-day consists of converting English language publications into all major languages. We can also Typeset & DTP your document in Malay language. We work in Indesign, Framemaker, Pagemaker, Coreldraw, Illustrator, Quark Xpress, Flash & others and produce the same document into print ready Malay language with a complimentary PDF file for you check the files.
Malay Website Localization
We have ample experience with website translation; we know exactly how to go about it, what to ask and what to change keeping in view that it will be localized multilingual website. We can translate your website to an attractive Malay website and retaining the meaning and flavor as per original website. We can easily work in HTML, XML, Wordpress, ASP, PHP, GIF, JPEG, Joomla, Drupal, PNG, CMS Websites, Flash,.NET & others so if you need your website in Malay just mail us: info@speakthylanguage.com
Spaeakthylanguage Native Malay Linguist Guarantee
Use Speakthylanguage native translators to ensure you're getting the best translation available, including correct dialects, special characters, and the nuanced meaning that comes with any of our language translation. We guarantee that you'll be satisfied with our translation. And because we provide complimentary PDF copies of your translations, it will make sure our work shows accents and special characters correctly. In this business, there is no substitute for a native Malay translator.
Contact info@speakthylanguage.com today for perfect Malay translation.