During the 7th Century AD Sron-btsan sgam-po, a king in southern Tibet, sent Thon-mi Sambhota, one of his ministers, to India to gather information on Buddhism. The minister then reputedly devised a script for Tibetan based on the Devanagari model and also wrote a grammar of Tibetan based on Sanskrit grammars.

The new Tibetan alphabet was used to write Tibetan translations of Buddhists texts. The first Sanskrit-Tibetan dictionary, Mahavyutpatti, appeared in the 9th century. Wood block printing, introduced from China, was used in Tibet from an early date and is still used in a few monasteries.
---
Sample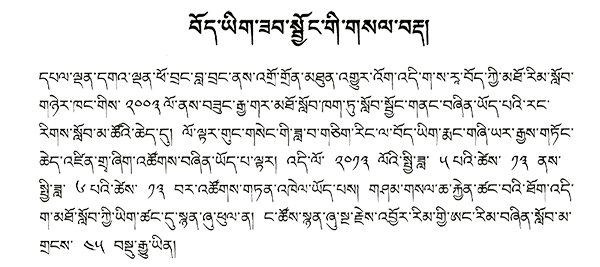 ---
ABOUT Tibetan Translation
Language families can be hypothetical or proposed in the sense that somebody proposes that such and such languages are related and not everybody agrees. A case in point would be the Hopi-Tibetan mirror which claims that the Tibetan word for "sun" is the Hopi word for "moon" and the Tibetan word for "love" is the Hopi word for "hate" (and incredibly enough, the visa versa cases also) thus proving the two languages must somehow be related.
See my comments on iTalk:Hopi where I do my part to question the this proposed relationship (mainly by asking "show me the money", or in this case "show me the words"). On a more serious note, linguists sometimes disagree as to the membership of various language families. As ILovEJPPitoC points out above, the classification of Japanese is not certain -- is it an Altaic language or a language isolate?.
Typesetting & Tibetan Desktop Publishing (DTP)
A very large portion of our business day-to-day consists of converting English language publications into all major languages. We can also Typeset & DTP your document in Tibetan language. We work in Indesign, Framemaker, Pagemaker, Coreldraw, Illustrator, Quark Xpress, Flash & others and produce the same document into print ready Tibetan language with a complimentary PDF file for you check the files.
Tibetan Website Localization
We have ample experience with website translation; we know exactly how to go about it, what to ask and what to change keeping in view that it will be localized multilingual website. We can translate your website to an attractive Tibetan website and retaining the meaning and flavor as per original website. We can easily work in HTML, XML, Wordpress, ASP, PHP, GIF, JPEG, Joomla, Drupal, PNG, CMS Websites, Flash,.NET & others so if you need your website in Tibetan just mail us: info@speakthylanguage.com
Spaeakthylanguage Native Tibetan Linguist Guarantee
Use Speakthylanguage native translators to ensure you're getting the best translation available, including correct dialects, special characters, and the nuanced meaning that comes with any of our language translation. We guarantee that you'll be satisfied with our translation. And because we provide complimentary PDF copies of your translations, it will make sure our work shows accents and special characters correctly. In this business, there is no substitute for a native Tibetan translator.
Contact info@speakthylanguage.com today for perfect Tibetan translation.