Ukrainian, ukrayins'ka mova; Russian: ukrainskiy yazyk) is an East Slavic language, one of three members of this language group, the other two being Russian and Belarusian. Written Ukrainian bears resemblances to these two languages, but with several notable differences. Historically, Belarusian and Ukrainian diverged from Old Russian language when the political boundaries in Russia were redrawn in the fourteenth century. Spoken Ukrainian shares vocabulary with Polish; the Ukraine.
(Western Russia) was part of the Polish-Lithuanian commonwealth.

UKRAINIAN

839 Mention of Rus' in the Bertynsky chronicles associated with the mission to Ludwig I of the Frankish kingdom.
MAP: Eastern Europe, 250-800
840 Magyars and khazars attacking Kyiv.
853 Askold becomes Kyiv's Prince.
877 Novgorod's Prince Oleh annexes Kyiv, kills Askold and brings the capital of Rus' from Novgorod to Kyiv.
890 Pechenegs advancing to Black Sea steppe. Ugrians (Hungarians) move to Danube.
907-911 Prince Oleh travels to Byzantine's capital Constantinopol (Ukrainian "Czarhorod") with a big army and demands an annuity to Kyiv.
945 Prince Ihor signs a treaty with Byzantine Empire - ready to accept Orthodox Christianity.
957 Princess Olha (Ihor's wife) becomes a ruler of Kyiv.
960-972 Svyatoslav (Olha's son) becomes a Prince of Kyiv. He confrontates with Khazars, then attacks Bulgaria and fights with Byzantine Empire. At the time Svjatoslav is in the offensive on Bulgaria, Khazars attack Kyiv. He returns but gets killed in a skirmish with Pechenegs.
---
Sample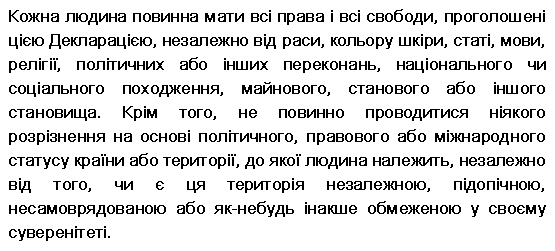 Translation
Everyone is entitled to all the rights and freedoms set forth in this Declaration, without distinction of any kind, such as race, colour, sex, language, religion, political or other opinion, national or social origin, property, birth or other status. Furthermore, no distinction shall be made on the basis of the political, jurisdictional or international status of the country or territory to which a person belongs, whether it be independent, trust, non-self-governing or under any other limitation of sovereignty.
---
Typesetting & Ukrainian Desktop Publishing (DTP)
A very large portion of our business day-to-day consists of converting English language publications into all major languages. We can also Typeset & DTP your document in Ukrainian language. We work in Indesign, Framemaker, Pagemaker, Coreldraw, Illustrator, Quark Xpress, Flash & others and produce the same document into print ready Ukrainian language with a complimentary PDF file for you check the files.
Ukrainian Website Localization
We have ample experience with website translation; we know exactly how to go about it, what to ask and what to change keeping in view that it will be localized multilingual website. We can translate your website to an attractive Ukrainian website and retaining the meaning and flavor as per original website. We can easily work in HTML, XML, Wordpress, ASP, PHP, GIF, JPEG, Joomla, Drupal, PNG, CMS Websites, Flash,.NET & others so if you need your website in Ukrainian just mail us: info@speakthylanguage.com
Spaeakthylanguage Native Ukrainian Linguist Guarantee
Use Speakthylanguage native translators to ensure you're getting the best translation available, including correct dialects, special characters, and the nuanced meaning that comes with any of our language translation. We guarantee that you'll be satisfied with our translation. And because we provide complimentary PDF copies of your translations, it will make sure our work shows accents and special characters correctly. In this business, there is no substitute for a native Ukrainian translator.
Contact info@speakthylanguage.com today for perfect Ukrainian translation.