Urdu is an Indo-European language which originated in India, most likely in the vicinity of Delhi, from whence it spread to the rest of the subcontinent. Other major metropolitan areas with a strong tradition of the language include Hyderabad, Lucknow, and Lahore.
Urdu developed as a vernacular dialect from the interaction between local Indian Sanskrit-derived Prakrits and the languages that were spoken in the courts of the rulers of The Subcontinent, from the time of the Delhi Sultanate to the Mughal Empire and its succeeding states. The language of the court, and of literature, was usually Persian, while that of religion was Arabic, the language of the Quran. This process of the mingling of these languages and the local dialects led to the development of everyday speech that sounded much like today's Urdu and Hindi. There is still a spectrum of dialects spoken in the streets of cities from Lahore and Karachi to Delhi and Calcutta and in the villages all over the region.

URDU
45,773,000 in India (1994 IMA); 8,000,000 in Pakistan (1988); 3,562 in Fiji; 170,000 in South Africa; 30,000 in Oman; 20,000 in Bahrain; 19,950 in Qatar; 16,800 in Germany; 54,000,000 or more in all countries. Jammu and Kashmir and by Muslims in many parts of India . Also in Afghanistan , USA . "Dakhini" is freer of Persian and Arabic loans than Urdu. Both are written in Arabic script. "Rekhta" is a form of Urdu used in poetry. State language and medium of instruction in government schools in Jammu and Kashmir.
---
Sample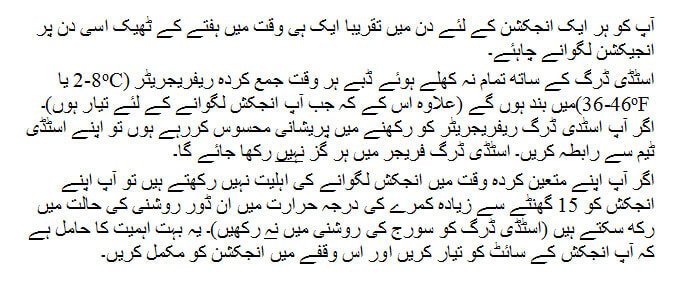 Translation
You should inject on the same day of the week at approximately the same time in the day for each injection.
All unopened cartons with the study drug must be stored refrigerated (2-8
o
C or 36-46
o
F) at all times (except when you are ready to inject). Contact your study team if you have any problems with keeping the study drug refrigerated. The study drug must
not
be placed in a freezer. If you are unable to perform your injection at the time you have selected, you may keep your injection supplies at room temperature for up to 15 hours in indoor lighting conditions (do
not
expose study drug to direct sunlight). It is very important that you prepare the site of injection and complete the injection within this time period.
---
Typesetting & Urdu Desktop Publishing (DTP)
A very large portion of our business day-to-day consists of converting English language publications into all major languages. We can also Typeset & DTP your document in Urdu language. We work in Indesign, Framemaker, Pagemaker, Coreldraw, Illustrator, Quark Xpress, Flash & others and produce the same document into print ready Urdu language with a complimentary PDF file for you check the files.
Urdu Website Localization
We have ample experience with website translation; we know exactly how to go about it, what to ask and what to change keeping in view that it will be localized multilingual website. We can translate your website to an attractive Urdu website and retaining the meaning and flavor as per original website. We can easily work in HTML, XML, Wordpress, ASP, PHP, GIF, JPEG, Joomla, Drupal, PNG, CMS Websites, Flash,.NET & others so if you need your website in Urdu just mail us: info@speakthylanguage.com
Spaeakthylanguage Native Urdu Linguist Guarantee
Use Speakthylanguage native translators to ensure you're getting the best translation available, including correct dialects, special characters, and the nuanced meaning that comes with any of our language translation. We guarantee that you'll be satisfied with our translation. And because we provide complimentary PDF copies of your translations, it will make sure our work shows accents and special characters correctly. In this business, there is no substitute for a native Urdu translator.
Contact info@speakthylanguage.com today for perfect Urdu translation.