A vast majority of the people of West Bengal speak Bengali (Bangla). Bengali is an Indo-Aryan language and evolved from Sanskrit. The language plays an extremely important role in the hearts and minds of Bengali's. The Independence struggle and the subsequent liberation from Pakistani domination draw inspiration from the struggle by Bengalis to prevent Urdu being declared the state language of Pakistan. The struggle for Bengali gave impetus to the nascent Bengali nationalism which saw fruition in the advent of Bangladesh as a free nation after a nine month long War of Independence.

BENGALI
We are specialist Bengali translators. We are able to offer all the services, advice and consultancy you require for complete success in the Bengali market.Our Bengali mother tongue translators are of the very highest calibre to ensure that when we translate into Bengali the work is of the very highest standard.
---
Sample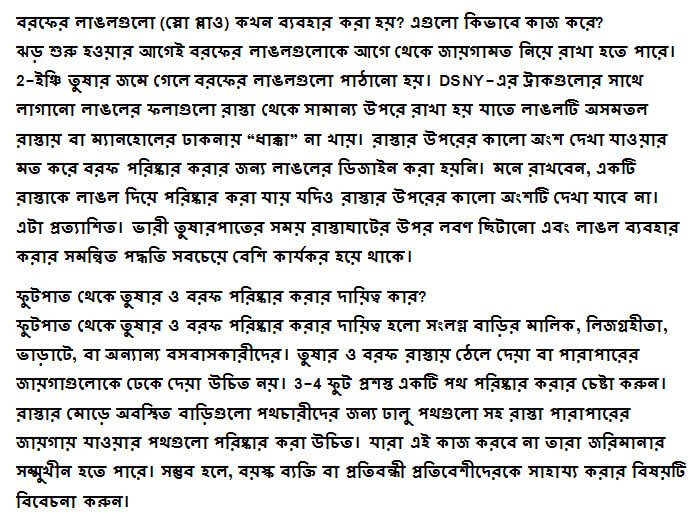 Translation
When are snow plows used? How do they work?
Plows may be prepositioned before the start of a storm. Snow plows are sent out once 2 -inches of snow has accumulated. The plow blade on DSNY trucks is set slightly off the ground so the plow will not "trip" on uneven streets or manhole covers. Plows are not designed to scrape the street to blacktop. Remember, a street can be plowed even though it will not show blacktop. This is to be expected. A combined approach of salting roadways and using plows is most effective in heavy snowfall.
Who is responsible for cleaning snow and ice from the sidewalk?
Owners, lessees, tenants, or other occupants are responsible for cleaning snow and ice from sidewalks. Snow and ice should NOT be pushed in to the street or cover crosswalks. Try to clear a 3-4 foot path. Corner properties should clear a path to the crosswalk, including pedestrian ramps. Those who do not comply can face fines. If possible, consider assisting elderly or disabled neighbors.
---
Typesetting & Bengali Desktop Publishing (DTP)
A very large portion of our business day-to-day consists of converting English language publications into all major languages. We can also Typeset & DTP your document in Bengali language. We work in Indesign, Framemaker, Pagemaker, Coreldraw, Illustrator, Quark Xpress, Flash & others and produce the same document into print ready Bengali language with a complimentary PDF file for you check the files.
Bengali Website Localization
We have ample experience with website translation; we know exactly how to go about it, what to ask and what to change keeping in view that it will be localized multilingual website. We can translate your website to an attractive Bengali website and retaining the meaning and flavor as per original website. We can easily work in HTML, XML, Wordpress, ASP, PHP, GIF, JPEG, Joomla, Drupal, PNG, CMS Websites, Flash,.NET & others so if you need your website in Bengali just mail us: info@speakthylanguage.com
Spaeakthylanguage Native Bengali Linguist Guarantee
Use Speakthylanguage native translators to ensure you're getting the best translation available, including correct dialects, special characters, and the nuanced meaning that comes with any of our language translation. We guarantee that you'll be satisfied with our translation. And because we provide complimentary PDF copies of your translations, it will make sure our work shows accents and special characters correctly. In this business, there is no substitute for a native Bengali translator.
Contact info@speakthylanguage.com today for perfect Bengali translation.