Danish is a North Germanic language with around 5.5 million speakers mainly in Denmark, but also in Greenland, Germany, Norway, Sweden, Canada, the UAE and the USA. Danish was the official language of Norway until about 1830 and of Iceland until 1944. Danish is now the first foreign language learnt in Iceland.
During the Middle Ages, Danish was heavily influenced by Low German dialects, while during the 17th century Danish absorbed many French loanwords and from the 19th century onwards, many English words have been taken into Danish.
The first written work of Danish literature was Gesta Danorum (History of the Danes) written in Latin in about 1200 by Saxo Grammaticus. This recounts the history of Denmark up to 1186 and includes Danish versions (in a somewhat Christianized form) of Scandinavian myths and sagas, including the earliest version of the Hamlet story.

DANISH
Danish is spoken by the 5 million inhabitants of Denmark, and is also the official language of Greenland and the Faroe Islands, which are considered part of Denmark. It is one of the Scandinavian languages, which constitute a branch of the Germanic languages, in turn a part of the Indo-European family.
---
Sample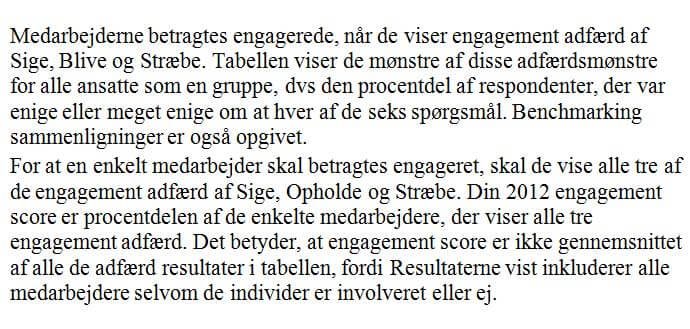 Translation
Employees are considered engaged when they display the engagement behaviors of Say, Stay and Strive. The table shows the patterns of these behaviors for all employees as a group, i.e. the percentage of respondents who agreed or strongly agreed to each of the six questions. Benchmark comparisons are also provided.
For an individual employee to be considered engaged, they must show all three of the engagement behaviors of Say, Stay and Strive. Your 2012 engagement score is the percentage of individual employees showing all three engagement behaviors. This means that the engagement score is not the average of all the behavior results in the table because the scores shown include all employees whether or not as individuals they are engaged.
---
Typesetting & Danish Desktop Publishing (DTP)
A very large portion of our business day-to-day consists of converting English language publications into all major languages. We can also Typeset & DTP your document in Danish language. We work in Indesign, Framemaker, Pagemaker, Coreldraw, Illustrator, Quark Xpress, Flash & others and produce the same document into print ready Danish language with a complimentary PDF file for you check the files.
Danish Website Localization
We have ample experience with website translation; we know exactly how to go about it, what to ask and what to change keeping in view that it will be localized multilingual website. We can translate your website to an attractive Danish website and retaining the meaning and flavor as per original website. We can easily work in HTML, XML, Wordpress, ASP, PHP, GIF, JPEG, Joomla, Drupal, PNG, CMS Websites, Flash,.NET & others so if you need your website in Danish just mail us:info@speakthylanguage.com
Spaeakthylanguage Native Danish Linguist Guarantee
Use Speakthylanguage native translators to ensure you're getting the best translation available, including correct dialects, special characters, and the nuanced meaning that comes with any of our language translation. We guarantee that you'll be satisfied with our translation. And because we provide complimentary PDF copies of your translations, it will make sure our work shows accents and special characters correctly. In this business, there is no substitute for a native Danish translator.
Contact info@speakthylanguage.com today for perfect Danish translation.