Polish (polski, jezyk polski, polszczyzna) is the official language of Poland. Polish is the main representative of the Lekhitic branch of the Western Slavic languages. It originated in the areas of present-day Poland from several local Western Slavic dialects, most notably those spoken in Greater Poland and Lesser Poland.
Many words have been borrowed from German as a result of heavy contact with Germans and the German language, this process has been going on since medieval times. Examples include szlachta (from German Geschlecht=nobility), rachunek (Rechnung=account), ratusz (Rathaus=town hall), burmistrz (Bürgermeister=mayor; word used only for mayors of smaller cities), handel (Handel=commerce), kac (Kater=hangover), kartofel (Kartoffel=potato; this word is dialectal: most Poles use the word 'ziemniak' for potato, but both words are understood anywhere), cukier (Zucker=sugar), kelner (Kellner=waiter) and malarz (Maler=painter; also the word 'malowac' has entered Polish as the verb "to paint"). This is especially true of the regional dialects of Upper Silesia. There are also several words of French origin in the language, most likely dating from the Napoleon era, such as ekran (écran=screen), rekin (requin=shark), meble (meuble=furniture), fotel (fauteuil=armchair), plaza (plage=beach) and koszmar (cauchemar=nightmare). Some place names have also been adapted from French, such as the two Warsaw boroughs of Zoliborz (joli bord=beautiful riverside) and Mokotów (mon coteau=my cottage), as well as the suburb of Zyrardów (from the name Girard, with the Polish suffix -ów attached to form the town's name). Other words are borrowed from other Slavic languages, for example "hanba" and "brama" from Czech.

POLISH
Polish is an Indo-European language belonging to the West Slavonic group. When the proto Slavonic tribes left their lands between the Odra and Dnieper rivers in the early Middle Ages, they settled almost the entire central, eastern and southern Europe, reaching the Elba in the west, the Volga and Dvina in the east and the Balkan Peninsula in the south.
One of the effects of this expansion was the emergence of three groups of Slavonic languages: west, south and east. The West Slavonic group also comprises Czech and Slovak and despite a variety of differences between these languages, Poles, Czechs and Slovaks can easily understand one another without an interpreter.
---
Sample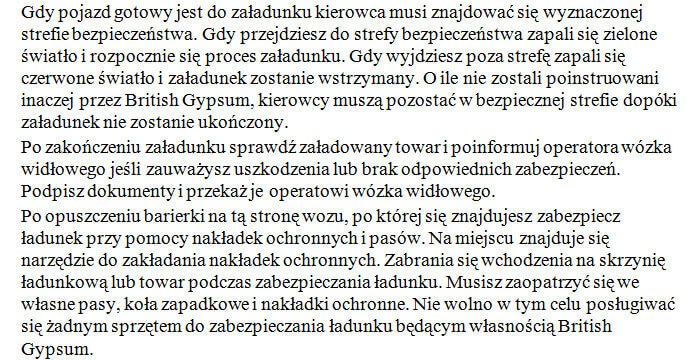 Translation
When vehicle is ready to be loaded, the driver must stand in the designated safe area. Whilst you are stood in the safe area a green light will show and loading can commence. If you step out of the safe area a red light will show and loading will stop. Drivers are to remain in the safe area until instructed by British Gypsum that they are to assist or that the loading is complete.
When loading has finished, check your load and alert the FLT driver if you notice anything unsafe or damaged. Sign the paperwork and give back to the FLT driver.
After pulling the barrier across the side you are working on, secure your load using edge protectors and straps. There is an applicator provided to place the edge protectors. You must not climb on the trailer or product at any time. You must provide your own straps, ratchets and edge protectors. You are not allowed to use any load securing equipment that is British Gypsum property.
---
Typesetting & Polish Desktop Publishing (DTP)
A very large portion of our business day-to-day consists of converting English language publications into all major languages. We can also Typeset & DTP your document in Polish language. We work in Indesign, Framemaker, Pagemaker, Coreldraw, Illustrator, Quark Xpress, Flash & others and produce the same document into print ready Polish language with a complimentary PDF file for you check the files.
Polish Website Localization
We have ample experience with website translation; we know exactly how to go about it, what to ask and what to change keeping in view that it will be localized multilingual website. We can translate your website to an attractive Polish website and retaining the meaning and flavor as per original website. We can easily work in HTML, XML, Wordpress, ASP, PHP, GIF, JPEG, Joomla, Drupal, PNG, CMS Websites, Flash,.NET & others so if you need your website in Polish just mail us:info@speakthylanguage.com
Spaeakthylanguage Native Polish Linguist Guarantee
Use Speakthylanguage native translators to ensure you're getting the best translation available, including correct dialects, special characters, and the nuanced meaning that comes with any of our language translation. We guarantee that you'll be satisfied with our translation. And because we provide complimentary PDF copies of your translations, it will make sure our work shows accents and special characters correctly. In this business, there is no substitute for a native Polish translator.
Contact info@speakthylanguage.com today for perfect Polish translation.