Greek is spoken by the 10 million inhabitants of Greece and some 82% of the population of Cyprus, numbering a further half million. It is also spoken around the world in the diaspora of Greeks who have emigrated for political or, far more commonly, economic reasons to the USA, Australia, Britain and elsewhere. In terms of number of native speakers it ranks well down the list of world languages. However, culturally its importance is disproportionate. As the language of classical Greek philosophy and literature and, later, as the language of the Christian Gospels and the early Church it has profoundly shaped Western thought.
---
Sample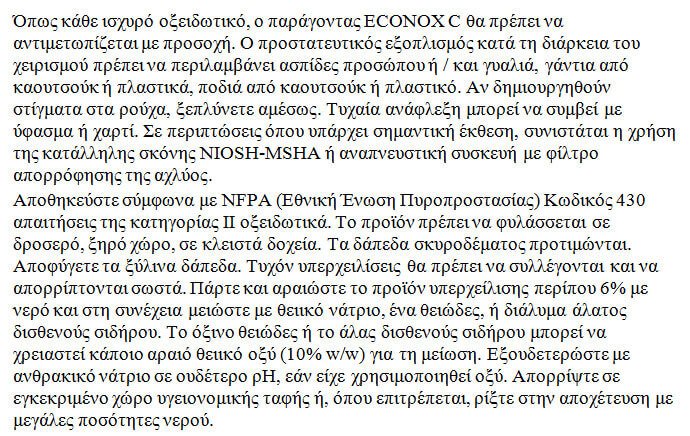 Translation
Like any strong oxidant, ECONOX C agent should be handled with care. Protective equipment during handling should include face shields and/or goggles, rubber or plastic gloves, and rubber or plastic apron. If clothing becomes spotted, wash off immediately; spontaneous ignition can occur with cloth or paper. In cases where significant exposure exists, use of the appropriate NIOSH-MSHA dust or mist respirator is recommended.
Store in accordance with NFPA (National Fire Protection Association) Code 430 requirements for Class II Oxidizers. The product should be stored in a cool, dry area in closed containers. Concrete floors are preferred. Avoid wooden decks. Spillage should be collected and disposed of properly. Contain and dilute spillage to approximately 6% with water, and then reduce with sodium thiosulfate, a bisulfite, or ferrous salt solution. The bisulfite or ferrous salt may require some dilute sulfuric acid (10% w/w) to promote reduction. Neutralize with sodium carbonate to neutral pH, if acid was used. Deposit sludge in an approved landfill or, where permitted, drain into sewer with large quantities of water.
---
ABOUT Greek Translation
The earliest records of written Greek are inscribed on baked mud tablets found at the beginning of the present century in the ruins of the palace of Knossos on Crete and, later, at sites on the Greek mainland. Written in a syllabic script known as Linear B in which each symbol represents a consonant plus vowel combination, they can be dated to the period immediately before the demise of the Minoan civilization of Knossos which occurred in about 1450 B.C. Unfortunately their decipherment has not revealed any great works of early literature; most of the tablets are inventories of property or deal with agricultural production and produce. However they represent the earliest records of any European language.
Typesetting & Greek Desktop Publishing (DTP)
A very large portion of our business day-to-day consists of converting English language publications into all major languages. We can also Typeset & DTP your document in Greek language. We work in Indesign, Framemaker, Pagemaker, Coreldraw, Illustrator, Quark Xpress, Flash & others and produce the same document into print ready Greek language with a complimentary PDF file for you check the files.
Greek Website Localization
We have ample experience with website translation; we know exactly how to go about it, what to ask and what to change keeping in view that it will be localized multilingual website. We can translate your website to an attractive Greek website and retaining the meaning and flavor as per original website. We can easily work in HTML, XML, Wordpress, ASP, PHP, GIF, JPEG, Joomla, Drupal, PNG, CMS Websites, Flash,.NET & others so if you need your website in Greek just mail us: info@speakthylanguage.com
Spaeakthylanguage Native Greek Linguist Guarantee
Use Speakthylanguage native translators to ensure you're getting the best translation available, including correct dialects, special characters, and the nuanced meaning that comes with any of our language translation. We guarantee that you'll be satisfied with our translation. And because we provide complimentary PDF copies of your translations, it will make sure our work shows accents and special characters correctly. In this business, there is no substitute for a native Greek translator.
Contact info@speakthylanguage.com today for perfect Greek translation.